Invitations
Invitation cards are the best way to let everybody know about your planned events – when they are being held and what they need to remember. We print invitations for a variety of different events. These include weddings, anniversarys, school events days and formal dinners.
Our invitations come in a range of finishes. These include a smooth Wove finish, a striped Laid finish and a rippled Contour finish. If you desire something a bit different, pop in and have a look at our extensive range of card finishes. We always welcome customers to come in and look at some samples.
Additionally, we can provide matching envelopes on request.
If you are looking for an invitation that stands out, we can offer a Thermography service that stands the text out from the page, giving it a gloss effect. This includes gold and silver colours.
Standard Sizes*
A6 (105x148mm)
A5 (148x210mm)
7×5″
*Custom sizes are available. Please ask
Cards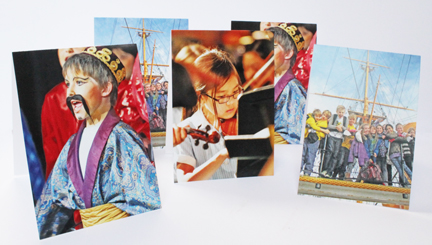 We produce all sorts of different card styles. Listed are an assortment (though not all) of our most popular cards.
Headed Cards
Our headed cards are a simple flat card, usually A6 size, with a persons name, address and contact details at the top. You can add something personal (like a picture of your house) next to the address line to personalise the card. Our headed cards are really popular with our customers because they make correspondence with friends and associates easy.
The card text and images can be in black or colour. We supply a number of different cream shades, white or coloured cards.
Matching envelopes are also an optional extra.
Folded/Greetings Cards
Our folded/greetings cards provide a personalised card, either left blank or with a message, to give to your friends or to sell individually. For example, some of our customers put their paintings (which we scan) on the front of their cards.
Standard sizes for our greetings card are either A6, A5 or 148 x 148mm flat. We can provide these either flat and scored or folded. Our standard material is a card stock that has a silk finish on the outside (helps the vibrancy of the colours) and a matt finish on the inside (so it is easy to write upon).
We will provide matching envelopes if desired.
Save the Date Cards
When you have a special event coming up such as a wedding or anniversary and want to make sure your friends and relatives save the date, our Save the Date cards are perfect.
Our standard card is A6 size, printed flat on a smooth card with a short message.
Certificates
Certificates for school achievements or for sports awards nights